Ayumi Hamasaki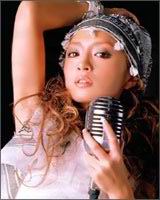 Name: Ayumi Hamasaki
Birthday: 2nd October 1978
Star sign: Libra
Place of Birth: Fukuoka
Blood type: A
Height: 5'1" (156cm)
(B/W/H): 31/20.5/32 (80/53/82)
Weight: 88lbs (40Kg)
Producer: Max Matsuura
Record Label: Avex Trax
Interests: watching baseball and music.
Talents: Playing piano, flower arranging, drawing, ballet, can write with left and right hands.
Favorite Food: sashimi, Sweets, cake, chocolate, and kimichi.
About Music: I listened to rock (Led Zeppelin, Deep Purple) through the influence of my older brother. Now I enjoy listening to black music like Babyface, En Vogue, etc.
Disliked Food: Pig leg.
Favorite Actors: Rie Miyazawa, and Nicolas Cage.
Favorite Authors: Natsuki Gin'iro, Mitsuwo Aida.
Admired Women: Keiko (Globe), Rie Miyazawa, Seiko Matsuda
Favorite Books: usually buy fashion magazines, etc. Modern-day translations of ancient Japanese poems (Manyoushuu) are especially interesting. Silver summer life works, Mitsuo Aida works, etc.
Favorite Singers: Keiko (Globe), Matsu Takako.
Favorite Movies: "The Bodyguard", "Betty Blue", and "Leaving Las Vegas"
Likes Collecting: Any white decorative things for the room.
People she respects: Someone that has a quality she doesn't.
People she dislikes: People who lie, and rude people.
Take a look at the Japanese pop music charts almost any day of the year and you're guaranteed to find at least one if not more Hamasaki Ayumi singles and/or albums in the Top 20. She's one of a handful of young female superstars dominating the world of J-Pop with a string of smash hits. Fans snap up copies of every release as soon as it hits store shelves--from her debut single "Poker Face" to her most recent video release "Vogue Far away Seasons" everything she touches is gold.
Like other Japanese divas, Hamasaki achieved success as an entertainer at a young age. Though still not 22 years old yet, she has already released 16 best-selling singles and 7 smash hit albums, as well as accompanying posters, photo albums, and videos. Capitalizing on the growing popularity of Japanese pop culture throughout Asia and around the world, Hamasaki has made her name a familiar one to non-Japanese as well.
Though insisting that she was shy and insecure as a girl, Hamasaki loves the spotlight these days, appearing frequently on music programs like Hey! Hey! Hey! Music Champ to perform her latest hits and banter with the hosts and other performers. Every time she takes the stage sporting a new haircut and fashion style, the young girls and women in the audience shriek Kawaii! (cute!) as they take mental notes on how to spruce up their wardrobe with trademark Hamasaki items, like her cowboy hat.
Hamasaki is often compared with Suzuki Ami, one of Japan's other current pop darlings. Both women came to the forefront of the J-Pop scene at about the time, are roughly the same age, and sing the same type of songs. The Japanese media has made much of the similarities, hinting that there is a rivalry between the two women, but Hamasaki brushes aside such speculation, saying that the two of them are, in fact, friends.
Hamasaki's star is still rising so we can expect to see more singles, albums, and videos from her in the years to come. We will even see her flex her acting muscles in future TV dramas and movies. Stay tuned as the best is yet to come!