Gackt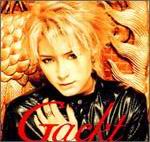 Name: Gackt Camui (he says his real name is Camui M. S. Gackt)
Sex: Male
Age: He claims to be over 400 years old...
Birthdate: July 4, 1540, he says; rumors say the actual year was 1973 (further sources have said that this birth year is not far off, though Gackt will not release the actual date for publicity reasons)
Birthplace: Okinawa
Hometown: Kyoto
Height: 180cm (about 5' 11")
Weight: 60 kg (132 lbs.)
Bloodtype: A
Waist: 68 cm (about 27 in)
Ring size: 10 - 14
Inner leg (inseam): 90 cm (35.4 in)
Shoe size: 25.5 cm (10 in - size 8)
Eyesight: 3.5
Favorite Comic: Banana Fish

Gackt was once part of Malice Mizer, a well-known J-rock band but later went solo. Although he is no longer part of the group, he says he still loves all members of the band in their own special ways. He composes his own music and originally wanted to be a conductor. He reads all his fanmail and even occasionally responds to lucky fans. Gackt says that he became psychic after a near-death experience during his childhood. He also says he used to be possessed by spirits. Gackt's parents were very strict and only allowed him to watch educational TV programs and listen to Classical music.

Early life
Gackt has never released his real name or birth date. Since his Malice Mizer era, Gackt claims to be a vampire born on July 4, 1540. Media speculation is that he was actually born on July 4, 1973. Further investigation has led researchers to believe that his real name is Satoru Okabe, but none of this is known for certain. Gackt was born in Okinawa, Japan and was raised by strict parents. At the age of seven, Gackt nearly drowned in the sea of Okinawa. According to his autobiography (Jihaku), after being saved, he developed paranormal abilities, seeing things and people that others could not. As a result, he was committed to isolation in a mental hospital. In the same autobiography, Gackt claims he does not want to have children so that he won't pass these problematic abilities to them.

Gackt is and has always been extremely competitive and has even stated, "It's not that I want to win, it's just that I don't want to lose." His parents, both musicians, began his formal lessons in classical piano when he was three, even though it was physically impossible for him to play. After many years of having no real interest in these lessons, his competitive nature made him want to master the piano after one day seeing a friend play better than him. His musical preference later shifted to brass instruments though, after seeing his father play the trumpet. When Gackt turned seventeen, his taste in music changed from classical to rock. As a result of this, he began learning to play instruments that deviated from the classical standards of music, eventually focusing on contemporary rock.

Gackt started as a drummer for both a Japanese recording studio and an unknown band. Later on he formed the band, Cains:feel.


Solo career
After leaving Malice Mizer, Gackt began a solo career with a band he created called "GacktJOB,"" which consisted of several members including You (violin/rhythm guitar), Yukihiro "Chachamaru" Fujimura (lead guitar/effects), Masa (rhythm guitar), Ren (bass), Toshi (drums), Yosh (choreographer/dancer), and Igao (keyboards). GacktJOB later added Ryuichi Ryu Nishida on drums, and Ju-ken on bass. Gackt's live shows often included homoerotic play (fan service) with some of these members. His solo career has been a great success as he continues to maintain a level of popularity far greater than he achieved with Malice Mizer. His fans (whom he calls "Dears") are from many different countries around the world.

In addition to music, Gackt has been involved as an actor in various TV commercials (usually playing himself), and in the Japanese drama Hero's Hero. He also co-wrote and co-starred in the hit vampire movie Moon Child with HYDE, vocalist of L'Arc-en-Ciel, with whom he is rumored to have had a romantic relationship; Gackt and Hyde are still close friends and deny such statements.

Gackt is also officially an author, having written, Moonchild: Requiem, and several as-yet unpublished short stories. In 2003 he published his autobiography entitled Jihaku, in which he displayed his deep thoughts and described events which had a profound impact on his life. Gackt worked as a runway model for his favorite designer, Yoshiyuki Konishi; designed his own stage-wear and clothing line; and opened his own private, members-only restaurant and bar, Tamaly Bar, complete with his own personal and family recipies.

Gackt was also involved in the PlayStation 2 game 'Bujingai', for which he performed some of the voices as well as doing motion capture for the game's protagonist. He has also appeared in Japanese commercials for the hit game 'Metal Gear Solid 2', and his name appeared on a dog tag in the game. Other voice-over work of Gackt's includes the character 'Seiji' from the anime New Fist of the North Star (Shin Hokuto no Ken). He also performed the ending theme Tsuki no Uta for the anime Texhnolyze.

Gackt is usually cited as being the model for the 'Final Fantasy VIII' lead Squall Leonhart's character design (although the game's character designer has claimed the actual inspiration for Squall was the American actor River Phoenix). However, a character with his likeness will not appear in Dirge of Cerberus: Final Fantasy VII. Instead he will be recorded doing motion work and digitally inserted into the game, so he will be performing in live action.

In early 2005 he was asked to write and perform the theme songs for the Gundam movie 'Zeta Gundam: A New Translation', a movie eagerly anticipated the anime-community. The songs were 'Metamorphoze' and a rearrangement of a previously released song, Kimi ga Matteiru kara.

Gackt's next single is "Redemption" which is also the theme for Dirge of Cerberus, and will be relased along side the game in Feburary. Also, recent news to Dears members have been made known: Tamaly bar will be closing its doors forever at the end of this year, thus ending Gackt's career as a bar owner.